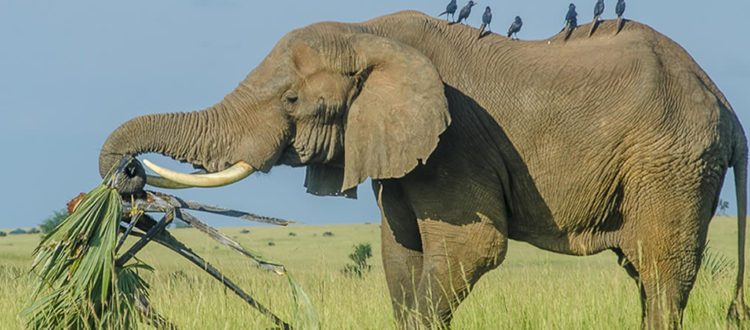 SAHO 007-KIBALE FOREST AND MURCHISON FALLS NATIONAL PARK
DAY 1: From Kampala, drive to Fort Portal, the seat of Toro Kingdom and proceed to Kibale Forest National Park. Arrive in time for lunch and in the afternoon, tour the Ndali Crater lake area. Dinner and overnight at Ndali Lodge, Primate Lodge or Chimpanzee Guesthouse.
DAY 2: Early morning visit to Kibale Forest for chimpanzee trekking (trackers must be 15 years of age and above). The forest is also home to other primates like grey cheeked mangabeys, baboons, vervet monkeys, Red colobus, black and white colobus, Red tailed monkey and many others. After lunch, walk through Bigodi Wetland to see birds like Hautlaub's golden,Black weavers, Speckled Mousebird, Black hooded, Grosbeak, Black-necked,Masked Swallow, Blue Flycatcher, Black and White Mannikin, Red eyed Dove,Lead colored Flycatcher and many others. Dinner and overnight at Ndali Lodge, Primate Lodge, Chimpanzee Guesthouse.
DAY 3: After breakfast, drive northwards to Murchison Falls National Park. The Uganda's largest national park (3893sq) and protects a large section of untamed savannah bisected by the mighty River Nile. It is one of Uganda's oldest conservation areas, formed in the early 1900's. The park is home to more than 76 mammal species including Lion, Elephant, Leopard, Hippopotamus,Rothschild Giraffe, Cape buffalo, Hartebeest, Oribi, Warthog and the Uganda kob. The park also hosts360 bird species including the rare Shoe bill stork, African Darter, Goliath Heron, Saddle-billed stork, White faced Whistling-Duck, Egyptian Goose, African Cuckoo-Hawk, Bat Hawk, Black chested, Brown, Banded snake – Eagles, Bateleur, Dark Chanting Goshawk and Red necked Falcon, Crested and Heuglin's Francolins, African Finfoot, Stanley and Black- bellied Bustards, etc. Tour the top of the Falls, where the Nile crashes through a 6 meter gorge and falls 45 meters. Numerous scenic viewpoints are a photographer's delight! Dinner and overnight at Paraa Safari Lodge / Nile Safari Camp, Red Chill Camp.
DAY 4: Early morning breakfast is followed by a game drive on the northern bank of the Nile River to view more of the wild animals and with the help of the guide, you will be able to see different bird species. After lunch, proceed for a launch trip along the Nile to the base of the mighty Murchison falls where appalling water escapes from the 6 meter narrowgorge, an opportunity to see the amazing hippos, crocodiles and water birds along the river banks. Dinner and overnight at Paraa Safari Lodge / Nile Safari Camp, Red Chill Camp.
DAY 5 : After breakfast, depart the park for Kampala with a stop at Ziwa Rhino Sanctuary for Rhino viewing. Arrive early evening with lunch en route.
End of service.
Accommodations will be Ndali Lodge, Paraa Safari Lodge, Chimpanzee Guest House, Primate Lodge, Nile Safari Camp or similar depending on your budget.