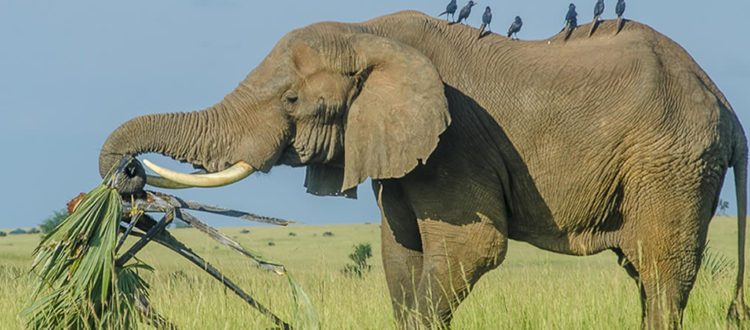 SAHO 015: UGANDA, RWANDA HIGHLIGHTS, MURCHISON FALLS, KIBALE FOREST, QUEEN ELIZABETH BWINDI, PN VOLCANS, NYUNGWE FOREST, LAKE BUNONYI AND LAKE MBURO NATIONAL PARKS (14 Days / 13 Nights)
DAY 1: Leave Kampala in the morning and drive North wards for Nakasongola District through the famous Luwero triangle and Stop at Ziwa Ranchers for Rhino viewing. Depart the sanctuary for Murchison Falls with lunch at Masindi. After lunch, proceed to the park and tour the top of the falls where the Nile's perfected beauty can be viewed easily, and marvel as it compresses and squeezes itself from over 1 kilometer wide down through a 7-meter canyon. The 150-meter drop of the falls creates a thunderous roar and a beautiful rainbow in a plume of spray – the best thing to ever happen to the Nile. Dinner and over night at Paraa Safari Lodge / Nile Safari Camp or Similar.
DAY 2: Get up early for a morning game drive on the Northern bank of the Nile River to View more of the wild animals and try to make out the different bird species with the help of the guide. After lunch, proceed for a two-hour launch trip up to the bottom of the mighty Murchison falls where appalling water escapes from the narrow gorge, an opportunity to see the amazing hippos, crocodiles, water birds along the river banks. Return to Paraa Safari Lodge / Nile Safari Camp or Similar for dinner and overnight.
DAY 3: After Breakfast, drive via the Albertine Escarpment of the western Rift valley on the Masindi-Hoima-Fort portal road. This drive will be a long one south via Hoima to Fort Portal, passing though verdant countryside and traditional homesteads and farms. Fort Portal rests in the shadow of the Fabled "Mountains of the Moon," It is also a seat of Toro Kingdom. This Journey takes a long time on dusty and bumpy roads! Dinner and overnight at Ndali Lodge / Primate Lodge / Chimpanzee Guest House or Similar.
DAY 4: In the morning after breakfast proceed to Kibale Forest National Park visitors' reception for briefing. Kibale Forest is reputable for the greatest variety and highest concentration of primates in East Africa. In the afternoon transfer to the Bigodi Swamp for another, totally different nature walks. The Bigodi Swamp Walk is an initiative of the local community and is known for its rich diversity of birds and primates. Dinner and overnight at Ndali Lodge / Primate Lodge / Chimpanzee Guest House or Similar.
DAY 5: After breakfast, depart for Queen Elizabeth, see different games as you enter the Park. In the afternoon go for a boat cruise along the Kazinga Channel, a natural link between Lake Edward and Lake George. Enjoy abundant bird life such as such as African Fish eagle, Grey headed king fisher, Swamp flycatcher, Grey capped Warbler, Great White nad Pink backed Pelican, Great and long tailed Cormorants, Common Squaco Heron, African open billed stock, Pied kingfishers, Black crake, swamp fly catcher among others and the hundreds of hippos that are cooling off at the shores, this cruise will definitely be one of the highlights of your safari. Return to your accommodation and enjoy beautiful sunset. Dinner and overnight at Mweya Safari Lodge /Jacana Safari Camp or Simba Safari Camp / Mweya Hostel for budget ones.
DAY 6: Early morning game drive to see Uganda Kobs, elephants, buffaloes, etc. if luck the Leopard and many bird species. After packed breakfast, drive to the Ishasha sector of the park. This wide-open savannah country dotted with flat-topped acacia trees, an incredible contrast in vegetation. In this quiet wilderness you can see nature at its best as well as the tree-climbing lion for which this area is most famous. Dinner and overnight at Ishasha Wildness Camp / Savanah Resort or Similar.
DAY 7: After breakfast, leave the park for Bwindi Impenetrable National Park. Take a Community walk, visiting different sites including butterfly pool, banana distillation, traditional healers house, Mukono Parents Primary School, Karehe Hill, cultural entertainment by the Batwa Pygmies, traditional beekeeper, Mukono handicrafts women's workshop. The funds from this trip go back to the sites you have visited and the people involved, it is a community tourism initiative, and with this tour you can help the community within the area. Dinner and overnight at Engagi Lodge / Buhoma Lodge/ Gorilla Resort or Similar.
DAY 8: Depart the ever green forest for Rwanda The Land of a Thousand Hills through Kyanika border post. En route see terraces, beautiful sceneries as you drive through the Kigezi and Mufumbira regions. Arrive at Ruhengeri the town built on old lava stones overlooking lakes Bulera and Ruhondo. Dinner and overnight at Virunga Lodge, Le Bambou Gorilla Lodge, Gorilla Nest, Hotel Muhavura or Similar.
DAY 9: After an early breakfast and briefing from the guides, set off for the gorilla tracking in the forest sanctuary. The activity starts at 8.30am. one will have to take with them a lunch box(es), drinking water and all the necessary gear like rain jacket and jungle boots to track the rare Mountain Gorillas, perhaps one of the most exciting wildlife experiences. The time taken to find the gorillas varies according to the movements of these marvelous primates and that may be between 2 – 6 hours. An encounter with an earth shaking 350 pound silver back or a baby gorilla of the 650 left in the world is veryexciting and never forgotten experience supplimented with Park Guides interpreting the flora and fauna and the lifestyle of the Gorillas! Dinner and overnight at Virunga Lodge, Le Bambou Gorilla Lodge, Gorilla Nest, Hotel Muhavura or Similar.
DAY 10: After breakfast, depart for Nyungwe Forest National Park en route . Dinner and overnight at Nyungwe Camp.
DAY 11: Get up early into the Nyungwe Forest, the largest block of montane forest in East or Central Africa and is an incredibly rich area of biodiversity but the reason for your visit today is the Chimpanzees and other primates. With 13 species resident you report early in the morning to the Park's offices before heading off to trek chimpanzee. In the after noon, take a nature walk around the park for birds, butterflies and other primates. Overnight Nyungwe.
DAY 12: Early morning departure for Kigali the Capital City of Rwanda with a stop at the famous National Museum at Butare and the ancient King's Palace at Nyanza. After lunch, proceed to Kigali city, en route view some of the a Thousand hills with beuatiful terraces. Dinner and overnight at Kigali Serena Hotel, Hotel des Milles Collines, Hotel Okapi or Similar.
DAY 13: After early morning breakfast, take a city tour of Kigali that will include Genocide Memorial Center and Gikongoro Market. After lunch, depart the land of a Thousand Hills, Rwanda to the Pearl of Africa, Uganda and
cross through Katuna boarder post. Dinner and overnight at Bunyonyi Safari Resort, Bunyonyi Overland Resort or Similar.
DAY 14: After break fast, take a boat trip on this beuatiful lake Bunyonyi, the lake of the little birds sorounded by green hills. Depart the lake for Kampala with lunch en route.
End of service.